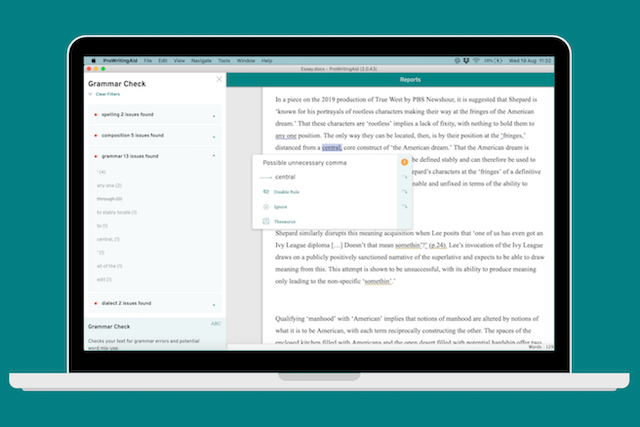 9 Best Writing Apps
Writing has never been an easy task. It's even harder for non-native writers when they write in English. You might sometime question yourself "If I made any grammar mistake?", "Do I use proper words in appropriate contexts?", "Will my readers understand the idea that I'm trying to express?"… Have no fear though. Technology, in particular, the Internet, has advanced a lot in the last forty years. An author can make their life easier by using a wide variety of tools. I've done my homework myself and have found some very useful writing apps. Below is the list of 9 best writing apps that can help improve your English writing skills. Let's read on to discover your favorite ones!
Grammarly
Grammarly is a proofreading tool. It can point out your grammatical mistakes, spelling errors. Moreover, it offers detailed explanations of grammar rules and of course, suggested adjustments. If you often write in English, it can be very handy at times.
To check your writings, simply create an account at the official website ( app.grammarly.com ). With this, you're able to upload your writings to check for grammar and spelling mistakes. Then, you can select to download the corrected ones back to your computer. You can also do a quick check by copying/pasting the texts into its interface. In my opinion, you should download and install the app on your personal computer. It will help check your work in the Microsoft Office. (on Windows only, sorry Apple lovers. You are out of luck).
However, what made me fall in love with Grammarly is its exceptional extension. Install the browser extension and it will proofread everything you've written. (Yes, even your Facebook status update.) It's available on Google Chrome, Mozilla Firefox and Apple Safari. And there is no hidden fee! It costs nothing at all to make your writings error-free. Grammarly Inc. also offers a paid service, the Premium app. This service checks for a larger range of mistakes, identify plagiarism. It will take your writing styles and word choices into account, too.
Pros:
Cons:
Hemingway Editor
Named after the famous American writer Ernest Hemingway, Hemingway Editor is a fantastic tool. It's fast, clean and simple. Hemingway checks your writing for its understandability and coherence. This app is absolutely useful for journalists and bloggers. However, anybody can make the most out of it. This editor is neat for anyone who wants to have a brief, yet concise writing style. The free online edition has everything you need to experience the power of it.
Hemingway Editor will, of course, check grammar and spelling mistakes in your writings. It will also point out passive voices or dull words/sentences and even unnecessary adverbs. Hemingway was well-known for his 'short but comprehensive sentences' so you can imagine how the Hemingway app works on your writing.
Pros:
Cons:
Prowriting aid
Prowriting aid is not as polished-looking as Grammarly or Hemingway Editor. It offers a lot of features that others don't. (Provided that you're willing to dig its menu to get to it). It helps you improve your English writing skills by checking grammar and other mistakes. There are also a lot of stats available.
For example, you can examine whether your article contains any duplicated words. If a sentence is too long, you will see warnings, too. You can even check for plagiarism and writing style. The reports of Prowriting aid is usually detailed and very interactive. Hence, you can utilise them to make adjustments.
Pros:
Cons:
Apps that will Help you to Develop Your Writing Skills
1. The British Council English Learning Apps
There is a wide variety of apps that are contained within The British Council English Learning Apps website. There is a little something there for everybody, and you may be surprised by what you do not know. For example, they explain the difference between "Principle" and "Principal," and are "Companies" people or entities, and is "Half" singular or plural. These are the sorts of things you do not think matter until you take an English grammar test and score far lower than you thought you would.
2. A Timer App
There are plenty of timer apps on the Internet. A good place for free apps is Online Stopclock because you may download and use them on IE on Windows without needing to install them into your system, and you can also download mobile versions of the clocks, all for free.
Try switching writing tasks every 8 minutes, or maybe every 13 minutes, or every 25 minutes (it depends on the types of writing tasks you are undertaking). Set your alarm for a certain amount of time and then switch writing tasks when your alarm goes off. This helps to stop you grinding yourself into the ground with a single topic. It forces you through a transition between one piece of text and another. Do this exercise to help stop boredom when writing about several different topics (e.g. when writing several articles with different topics) and do it to improve your startup times so that you become a more efficient writer.
3. Thesaurus Apps
This seems like a piece of throwaway advice, but the right thesaurus app can really improve your writing. The hardest part is finding one that fits your writing style and your writing topics. Find a good app that generates hundreds of different words for each selection, and that shows both synonyms and antonyms, and you may improve your writing skills dramatically.
Never have such tools been so much help as they are within the romantic and erotic novel industry. If you have ever tried writing for those industries, you will know that certain words have a habit of appearing too often (you know the ones). Text often feels repetitive and undescriptive, so writers turn to thesaurus apps not just for alternative words, but because some apps offer genuine descriptive replacements, which is why you read things such as, "Opened as gently as the petals of a flower" and, "Smooth and silky as if bathed in a pool of the finest oils and creams." Such lines are born from skill, and that skill was built with the help of well-optimized thesaurus apps. In fact, so powerful are such apps that a poor quality thesaurus app may even stifle the creativity and growth of a writer.
4. A Distraction Free Zone
There are many apps of this nature such as WriteRoom, Focus Writer, Manuskript and so forth. They are apps that remove possible distractions from your screen. Some of them give you a stripped down interface so that you are not distracted by visual elements such as screen icons, the taskbar clock, etc.
Other apps disable things such as social media notifications so that you are not disturbed while writing. These types of apps are good for some people and not for others. To some people, the process of thinking about writing and seeing screen icons starts to induce stress responses that make it very difficult to write. On the other hand, there are some people who need a screen full of icons and tools in order to feel as if they are in control, so these types of apps are not for everybody.
5. Mind Mapping Apps
There are quite a few free and paid mind mapping apps on the Internet. They are ideal for people who have a writing plan or narrative plan that has sprawling and difficult-to-follow parts. Many times, such a narrative or plan cannot be stated in a linear sentence-by-sentence format.
Mind maps help people generate sophisticated plans and narratives that are still understandable to them. Other people do not have to understand them, but the writer does, which helps to make a narrative or piece of text more coherent and easier to follow.
Conclusion – Proofread Your Text Before Running the Spellchecker
Hopefully, you are now aware that apps will not make you a better writer. It is up to you to use apps to improve your knowledge and your process so that you may become a good writer.
Apps are not going to do the heavy lifting for you and, with that in mind, you should proofread and then use your spelling and grammar checker. Doing so will help improve the quality of your writing, and the red lines in your work will help keep you focused on the text and will stop you from accidentally skim reading as you proofread. Plus, it is always interesting to see what you have missed because it may help you learn valuable spelling and grammar lessons in the long run.
Source:
https://ejoy-english.com/blog/best-writing-apps/
https://www.skillsyouneed.com/rhubarb/writing-skills-apps.html
https://prowritingaid.com/art/26/10-Free-Writing-Apps-and-Tools.aspx