Best Photo Editing Tools for PC – Free to Download
If you don't care about your images, you don't get attention. This rule now applies not only to businesses but to individuals. Whether you're a professional photographer retouching photos for a client or an average Instagram user, you know how important it is to give your images a polished look before showing them to the world. The good thing is that you don't have to spend a fortune on powerful photo editing software to make your photos look perfect.
This article lists the best photo editing software for PC that you can download for free. Whether you're looking for a professional editor equipped with cutting-edge features or a simple editor to quickly enhance your photos before publishing on social media, you'll find something in the list below that suits your needs.
Best photo editing software for PC (Free Download)
1. Microsoft Windows 10 Photos (free)
Photos is a built-in photo editing app that comes with Windows 10. Few people use it for more than viewing photos, though Microsoft has included a bunch of features in their Photos app that can come in handy.This app allows you to sort your photos into collections, albums, and folders. A useful people tagging feature uses facial recognition to organize your photos, making it easier for you to browse photos of specific people on your PC. This feature is disabled by default, so if you want to use it, you should enable it manually in the People tab. There are a number of editing features in Photos too, including crop, rotate, photo enhancing filters, basic light and color adjustments, blemish removal, and red eye correction.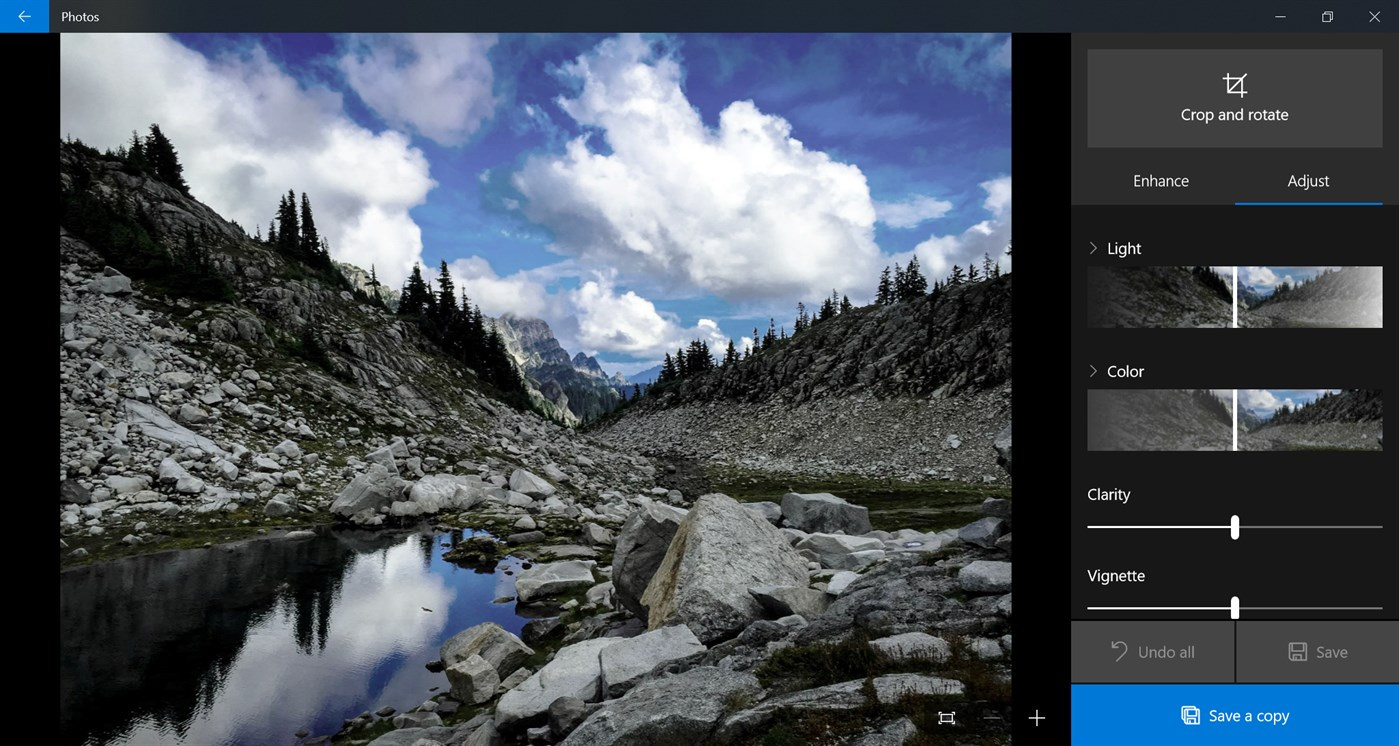 2. Luminar (7-day free trial)
Luminar uses cutting-edge AI technologies to automatically edit your photos. In addition to fundamental features like layers, masks, blending modes, transformation tools, editing brushes, and clone and stamp tools, Luminar offers advanced AI-powered tools that can enhance your photos with just a click. These tools include Sky Replacement, AI Structure, AI Skin and Portrait Enhancer, Sunrays, Accent AI, and Smart Contrast. Although almost all of Luminar's tools are automated, they can be customized to achievethe results you want. Luminar also comes with over 70 creative styles, called Looks, that you can apply to your photos to make them appear more sophisticated. You can also create your own Looks and share them with others.
3. GIMP (open-source)
GIMP is one of the most popular photo editing tools for PC that you can download for free. It's recently been updated with a whole lot of new features and improvements to existing features. GIMP feels like Photoshop in terms of its interface and functionality, with a bunch of different tools for different needs. It's packed with tools for simple editing, like transform and crop, as well as tools for more complex work: layers, masks, blending modes, color management tools, retouching tools, blur and sharpen tools, and more. However, GIMP doesn't support the CMYK color profile, so it might not be the best option for printing.
4. Photolemur (free with watermark)
Photolemur is another fully automatic photo editing app. It's great for amateurs, beginners, and those who don't have time for editing. Photolemur analyzes photos using Artificial Intelligence algorithms and applies complex adjustments in the blink of an eye. In one click, it will enhance the colors in your photos, fix exposure, remove haziness, adjust color temperature, restore details, fix lens errors, and more. The app also automatically enhances portraits by smoothing skin, removing blemishes, enlarging eyes, and whitening teeth. One of the most useful features of Photolemur is batch processing, which allows you to import and apply corrections to several photos at once.
5. LightZone (free, open-source)
This open-source photo editor was designed to work with RAW files. LightZone offers a non-destructive way of editing photos: changes are applied to a copy of the photo, leaving the original unchanged. With LightZone, you can always undo edits after they're saved, even if you've started a new editing session. LightZone boasts numerous tools for basic and advanced photo editing: ZoneMapper, White Balance, Color Balance, Sharpen, Relight, Clone, and others. One of the most interesting features of LightZone is Styles, or combinations of photo adjustments that can be applied to one or multiple photos. There are a bunch of built-in Styles, and you're free to create your own.
6. Paint.NET (completely free)
Paint.NET is one of the best pieces of photo editing software for PC that's completely free. This photo editor was initially developed as an alternative to Microsoft Paint but has surpassed it in many ways. Paint.NET boasts a user-friendly interface that requires little time and effort to learn. It comprises a good set of tools for making selections, moving selections, retouching, recoloring, and more. It also contains essential tools for adjusting levels, brightness, contrast, curves, hue, and colors. Paint.NET is packed with a huge number of effects and filters that allow you to play with noise, glow, distortion, sharpening, and blur.
Best free video editing software for desktop
There are a lot of desktop-based editing software available for businesses looking to create promotional videos. The biggest advantage of free video editing software for desktops is that they tend to have more features than most mobile video editing apps.
If you're looking to edit your promotional videos on a budget, check out our list of free video editing software you can use to edit long-form content for YouTube, your ecommerce site, or a variety of other platforms:
1. Lightworks
Lightworks includes a simple and intuitive interface, making it so easy to get started. A video editor software that offers a collection of detailed video tutorials, Lightworks is one of the more accessible and easy to learn Linux video editing software options on this list.
2. VideoPad
VideoPad is a great free option of video editing software for anyone who wants to create high-quality videos without spending a dime. With VideoPad, you'll find all kinds of simple and easy-to-use features—such as 3D video editing and a sound effects library—to try different video compositions and styles.
You can edit your videos with special effects, overlays, texts, and transition, as well as colour adjustment and sound effects. Then export all your finished videos to YouTube, Facebook, Google Drive, and other mobile devices quickly and easily.
The only drawback is that it may be too simple for advanced video editors. It doesn't come with as many advanced features as some of the other free video editing software on this list, but with options to add light effects, fine tune colours, and overlay text and images, there's enough here to make it worth the free download.
3. HitFilm Express
If you don't have a lot of experience with video editing, HitFilm Express may feel a little advanced at first—it's used to produce Hollywood-style films—but it's worth the learning curve, as it's one of the best all-in-one free video editors available. (HitFilm does ask you to share a social media status update when you download the software, but that's a small price to pay.)
4. DaVinci Resolve
DaVinci Resolve combines professional 8K editing, colour correction, visual effects, and audio post-production in a single production tool, which is why it's the video editing software of choice for many professional editors of films, television shows, and commercials.
DaVinci allows for both offline and online editing, and its high-performance playback engine saves time when editing and trimming—even for processor-intensive file formats like H.264 and RAW. DaVinci Resolve's complex features may be too extensive for some users, but the free version is perfect for more advanced projects.
5. VSDC Free Video Editor
VSDC's desktop video editing software is available as both a free and paid version. Although the free version has reduced features, it still comes with VSDC's full video editing suite—including a mask tool and chroma key functionality for green-screen video effects.
If you have the funds to spring for the full version, the suite of tools expands to include video stabilisation, robust post-production effects, slideshow/ presentation capabilities, 3D diagram templates, and direct social media publishing.
6. OpenShot
OpenShot's easy-to-use user interface makes it a great video editing program for beginners. While more complex tools may offer more editing components, OpenShot's intuitive interface and minimal design are perfect for simple editing.
OpenShot is an efficient option for small businesses and is best for clip resizing, scaling, trimming, snapping, and rotation. It also offers credit scrolling, frame stepping, time mapping, audio editing, and real-time preview.
7. Shotcut
Code Beautify
Codebeautify got plenty of tools, including an XML viewer that has a minimalistic interface. It is better suited for quick editing. You can load an XML file from a URL or browser. It generates the tree view for XML and lets you convert XML to JSON. It includes XML syntax validation and minification.
Online XML Tools is an online set of XML tools developed by browserling.com. You can prettify, minify, validate your XML document. You can convert XML to YAML, JSON TSV, Base64, CSV, and vise versa. The tool looks promising with its huge list of handy features like truncating over XML, working with XML and SQL, and visualize XML with other features as well.
Conclusion
As you can see, there are plenty of editors available for editing XML. When choosing the best XML editor for your development, you need to choose an option that fits your purpose. Decide whether you're getting the editor for yourself that won't break your bank or for your team, the features you need, and the time cost you're willing to save.
Movavi Video Editor
Why We Picked It
Movavi is hardly a household name in video editing software, but it features a truly pleasing interface housing all the tools hobbyist video editors and YouTubers are likely to want. Good-looking effects and transitions are included as are a selection of soundtrack music. Exporting is among the fastest, and you can directly upload to YouTube or Vimeo. It's also reasonably priced, with both one-time and subscription options. Versions are available for both macOS and Windows.
Who It's For
Those just getting into video editing will appreciate Movavi's clear interface and appealing set of tools for both video and audio (which was beefed up in a recent version update). Everyone will appreciate its fast rendering and built-in uploading. It's also good for those who don't want to spend a lot of money on video editing software.
Resources:
https://skylum.com/blog/best-photo-editing-software-for-pc-free-download
https://www.shopify.in/blog/best-free-video-editing-software
https://filmora.wondershare.com/filmorapro-video-editor-guide/use-the-editing-tools.html
https://geekflare.com/best-xml-editors/
https://www.pcmag.com/picks/the-best-video-editing-software